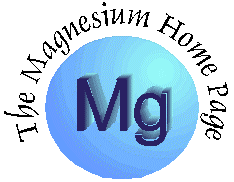 Links to Magnesium Resources
---
Industry Associations
Australian Die Casting Association
Foundry South Australia
International Magnesium Association (IMA)
Chinese Magnesium Association
TMS Light Metals Division
The Institute of Materials
The Institute of Mining and Metallurgy
Canadian Institute of Mining, Metallurgy and Petroleum
The Australasian Institute of Mining and Metallurgy
The South African Institute of Mining and Metallurgy
ASM International
American Foundrymen's Society (AFS)
North American Die Casting Association (NADCA)
Canadian Foundry Association
Diecasting Development Council
American Metalcasting Consortium
International Organization for Standardization (ISO)
Other Materials Science sites around the world
---
Magnesium Casting Companies
Acme Die Casting
American Precision Castings
American Racing
Bridgestone TG Australia Ltd
Castalloy
Chia Seng Pei
Chicago Magnesium Casting Co.
Chicago White Metal Casting, Inc.
CMS Hartzell
Contech Division, SPX Corporation
Curto-Ligonier Foundries Co.
Del Mar Die Casting Co.
Diemakers, Inc.
Dynacast Inc.
Empire Die Casting
Fonderia Flabo
Gibbs Die Casting Corporation
Haley Industries
Harvard Industries
Hitchcock Industries, Inc.
InTerMag Technologies, Inc.
INTERMET
Laukötter Gusstechnick
Lite Metals Company
Lunt Manufacturing Company, Inc.
Magnesium Aluminium Corporation
Magnesium Services Limited
Magparts
Mennacasting
Meridian Technologies
Northern Diecast
Ortal
Phillips Plastics Magnesium Injection Molding
Pierburg AG
Product Technologies Inc.
Prototype Casting Inc.
Simalex Custom Pressure Die Casting
Spartan Light Metal Products
Thixomat, Inc.
Thixotech, Inc.
Trimag Division of Haley Industries
UK Racing Castings
Waffer Technology Corp.

---
Suppliers of Equipment for the Magnesium Industry
Alan Worswick (Engineering) Ltd.
American Tank and Fabricating Company
Brochot
Buhler
Ditta Musto Magnesium Crucibles
Dynamic Materials Corporation
Friedrich + Pfuderer GmbH Furnace Engineering
Hishinuma Machinery Company
IDRA Presse
Italpresse
MagCasTec
Metal Works Limited - Metamag Furnaces
Oskar Frech GmbH & Co.
Prince Machine Corporation
Rauch
Sand Systems, Inc.
Seco/Warwick
Strikodynarad
Thermtronix

---
Magnesium Producers (current and potential new)
Australian Magnesium Corporation
Avisma
Dead Sea Magnesium Ltd.
Hydro Magnesium
Magcorp
Magnesium Alloy Corporation
Magnesium Elektron (MEL)
Minhe Magnesium
Mt. Grace Resources
Pacific Magnesium (formerly Golden Triangle Resources)
Noranda Magnesium (Magnola)
Northwest Alloys
Pechiney Electrometallurgique - Magnesium Division
Rima Industrial S/A
SAMAG
Solikamsk Magnesium Works
Timminco
UBE Industries
VAMI - Russian Aluminium and Magnesium Institute

---
Magnesium Surface Finishing Companies
ALGAT
Anacote Corporation
Crompton Technology Group (Keronite)
Franz Oberflächentechnik GmbH and Co KG
Luke Engineering (Magoxid-Coat)
Ingram and Glass Ltd
Isle Coat Ltd (Keronite)
Magnesium Technology Ltd (New Zealand)
Miller Plating and Metal Finishing Inc.
Poeton Industries Ltd
Tagnite
Magnadize
---
Magnesium Industry Consultants
Clark and Marron
Magnesium News and Views (Bob Brown)

---
Magnesium Traders
F and NF Metals, Italy
Hudson Metal Recycling, USA
M and B Magnesium - sheet and plate, Canada

---
Other Magnesium Links
The latest magnesium industry news
Hypomagnesemia and Hypermagnesemia
aXcess australia Concept Car
Recycler's World
Almamet
Magnesium deficiency, heart attack and drinking water

Unrelated Links
Current WWW publishing thinking suggests that adding completely unrelated links to other sites on the web can vastly improve access to one's web site. As a result, on the bottom of each section of The Magnesium Home Page, we will add some unrelated links to sites that we think are worth checking out. Keep an eye out for them! Here are some to get you started:
Lycos Search Engine
Alta Vista Search Engine
TUCOWS Download Software Site
Cybernet Cafe Melbourne


The information displayed on this page is provided for reference only. The editors do not endorse or in any way recommend the organisations listed and expressly excludes liability for and damage, loss or injury that a person may suffer as a result of any dealing with an organisation listed.
Back to
The Magnesium Home Page
For more information and comments about this page please contact
Nigel Ricketts